Family Tree of Aadam and Hawa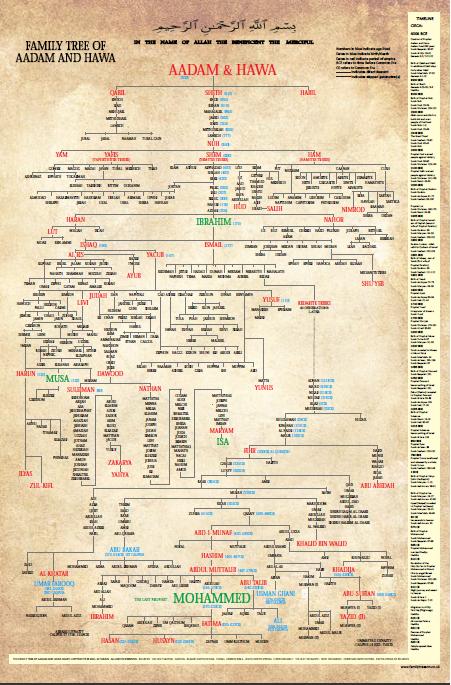 Dimension: 841 x 594 mm (A1)
Material: vinyl PVC
At a glance the chart illustrates the heritage of the Prophets. It takes the reader on a journey to discover the descendants of Prophet Aadam and the ancestors of Prophet Mohammed (pbuh). The reader can virtually immerse themselves in the Timeline and experience the significant historical events which spans over 4000 years.

This item is unique, comprehensive and serves many purposes as listed below:
A learning resource for educational establishments.


To stimulate debate in the field of academia amongst scholars and philosophers.


To use as a quick reference guide to supplement pious books.


To display as an informative chart at community centres, places of worship, and in the home.
Poster enquiries contact: spheneview80@gmail.com

Only hard copies available
For authenticity, all the information on the chart is supported by references to religious literature:

Abdullah Yusuf Ali 1934, The Meaning of the Holy Qur'an.
Arthur John Arberry 1955, The Koran Interpreted: A Translation.
Ben Callis 2005, Biblical Genealogy Abraham to Jesus Christ.
Collins Anglicised ESV Bibles 2010, Holy Bible: English Standard Version.
George Steiner 1996, The Old Testament: Authorized King James Version.
J. P. S. (Translator) 2007, Torah: The Five Books of Moses.
Jewish Publication Society 1995, The Torah: The Five Books of Moses,
the New Translation of the Holy Scriptures According to Traditional
Hebrew Text.
Marmaduke Pickthall 1930, The Meaning of the Glorious Qu'ran.
Martin Lings 2006, Muhammad: His Life Based on the Earliest Sources.
Michael D. Coogan 2008, The Old Testament: A Very Short Introduction.
Muhammad Abdel-Haleem 2008, The Qur'an (Oxford World's Classics).
Muhammad Al –Bukhari 1981, Sahih Al-Burkhari.
Muhammad Asad 1980, The Message of The Qur'an.
Muhammad Muhsin Khan & M. Taqi-ud-Din Al-Hilali 1999. The Noble Quran.
Nessim Joseph Dawood 1956, "The Koran".
Nicholas King 2006, The New Testament.
Resit Haylamaz 2008, Khadija: The First Muslim and the Wife of the
Prophet Muhammad.
Sheikh Safi-ur-Rahman al-Mubarkpuri 2002, The Sealed Nectar: Biography of the Noble Prophet.
Thomas Cleary 2004, The Qur'an: A New Translation.